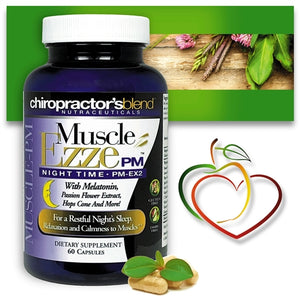 If you struggle with sleepless nights, whether from chronic stress, anxiety, tension, sore muscles, or insomnia, herbal supplementation does not have the addictive effects of many prescription muscle relaxants and sleep aids. Chiropractor's Blend Muscle Ezze PM EX2 Night Time™ offers the unique herbal blend as our Original Natural Muscle Ezze Advanced V40™ day and night formula but, with added sleep benefits of natural herbs, Passion Flower, Lemon Balm Leaf, and Hops Cone Extracts, all to help promote a more calming, anti-anxiety effect at bed time. We have also added 3 mg of Melatonin, a hormone naturally produced in the brain that helps regulate sleep patterns and the body's circadian rhythm.
 The Original #1

Muscle Ezze PM-EX2 Night Time
The Original #1 Muscle Ezze PM-EX2 Night Time™ was also designed for added support, to regulate and calm the central nervous system, support muscle relaxation and promote a more restful quality of sleep for those who suffer from sleeplessness. Without morning grogginess Muscle Ezze PM-EX2 Night Time™ helps promote an overall sense of well-being and gives us the opportunity for a fresh start to our day!

Passion flower has a tranquilizing effect, including mild sedative and anti-anxiety effects. In studies conducted since the 1930's, its mode of action has been found to be different than that of most sedative drugs (sleeping pills), thus making it a non-addictive herb to promote relaxation. The sedative effect of Passion flower has made it popular for treating a variety of ailments, including nervousness and insomnia. Research had indicated that passion flower has a complex activity on the central nervous system ( CNS), which is responsible for its overall tranquilizing effects. Also, it apparently has an antispasmodic effect on smooth muscles within the body, including the digestive system, promoting digestion. Safety: There are no reported side effects for passion flower.

Lemon balm ( Melissa officinalis ), a member of the mint family, is considered a "calming" herb. It was used in the Middle Ages to reduce stress and anxiety, promote sleep, improve appetite, and ease pain and discomfort associated with digestion (including flatulence and bloating as well as colic). Today, lemon balm is often combined with other calming, soothing herbs, such as valerian, chamomile, and hops to enhance the overall relaxing effect. Several studies have found that lemon balm combined with other calming herbs (such as valerian, hops, chamomile) helps reduce anxiety and promote sleep.

Hops Cone Extract; Hops are all natural and best known as a mild sedative and sleep aid. Hops extracts taken orally have been shown to promote restful sleep. Hops while 100% natural are quite complex and contain many different compounds. Scientists have identified and successfully separated out several components that are natural sedatives without side effects, grogginess, or dependency.

Melatonin is a natural molecule made by the pineal gland, which is located in the back of the brain. We produce this natural substance abundantly during our early years, but levels decline steadily as we age. The use of Melatonin is based on years of solid research that supports its important role in the body. Studies show that Melatonin combats insomnia by regulating the circadian rhythm (sleep/wake cycle). Additionally, Melatonin has been suggested for insomnia.
On the fence about this Muscle Ezze PM The Original #1 Natural Night Time Sleep Aid? Don't be. Let our satisfaction guarantee address your concerns.

Inventory Last Updated: Dec 10, 2023